Originally uploaded by duzercruzer
Cool article in Draft Magazine about the ride
Tucson is cool, and in cool cities you meet cool people. Take Andy for example, he found out about the ride via a local bike blog, wrote me a message offering up his couch (much better than a picnic table) and now we are brothers, I bought him a nice Mexican dinner to show my appreciation.
He even woke up way earlier than normal to ride out with me this morning. He also has about 100 bikes filling every crack in his house and backyard, see video. Hooray for Andy!
Anyway, today I pedaled my bike, just like every day, and it was great, just like everyday.
This is what I ate:
Hard boiled egg and a banana for breakfast, then a peanut butter Power Bar an hour later, then two Long John Custard filled donuts in Benson at about 10:30am, then I ate a 6inch Egg and cheese sub, and three chocolate chip cookies, a few hours later I stopped in for a chocolate milk shake…YUM!
I love doing these rides, I can eat whatever I want cause I know I'll burn it off, but my teeth might fall out of my face if I don't watch my sugar intake.
I'm in Willcox AZ now, nice town, they have a Taco Bell, I'll probably go there and eat some burritos…Life is good.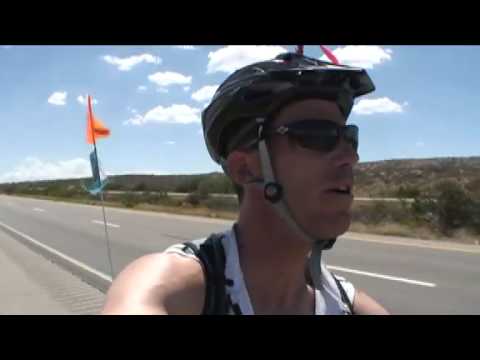 Filed in: DAAM